9-Night Trip
on
L'Austral
Gastronomy, Vineyards & Grands Crus

In partnership with Château Latour.
From Lisbon to Bordeaux, PONANT invites you to join an exceptional gastronomic and oenological cruise in partnership with Château Latour along the Portuguese, Spanish and French coasts. Get a different perspective on the Atlantic Ocean coastline during this 10-day trip aboard L'Austral.
Setting sail from Lisbon, the seven-hilled Portuguese capital, you will chart a course for the port of Leixões, from where you will reach the city of Porto. Capital of the northern region of Portugal, this "city of granite", the centre of which is a UNESCO World Heritage site, is renowned for its wine.
Your journey will continue to Galicia and the city of Vigo, the biggest fishing port in Spain. Not far from here, Santiago de Compostela awaits you. This unmissable pilgrimage destination is home to a number of monuments from the Romanesque, Gothic and Baroque periods, testimony to its illustrious past.
L'Austral will then head for the capital of the Spanish Basque Country, Bilbao. Between daring architecture and the continuation of its ancestral traditions, you will be able to witness the city's unique energy.
You will conclude your exploration of Basque Country on the French side with a stay in the city of Saint-Jean-de-Luz, before reaching the beautiful fortified town of Talmont-sur-Gironde.
During your last call in Pauillac, you will have the opportunity to make several visits and wine tastings at some very beautiful wine estates in the Saint-Estephe, Margaux and Pauillac appellations.
Your cruise will end in Bordeaux, the wine capital of the world.
Culinary and Cooking
Luxury
Per Person
+ $500.00 taxes/fees
April 10, 2023
through
April 19, 2023
Book by:
April 06, 2023 7:00 PM
Superior Stateroom Cat.SP3
Inside
Outside
Balcony
Suite

N/A

$5,710.00




Cat: SP3




$634.44 per night

$6,220.00




Cat: DEL




$691.11 per night

$10,900.00




Cat: DS6




$1,211.11 per night

More Pricing Information
Itinerary Map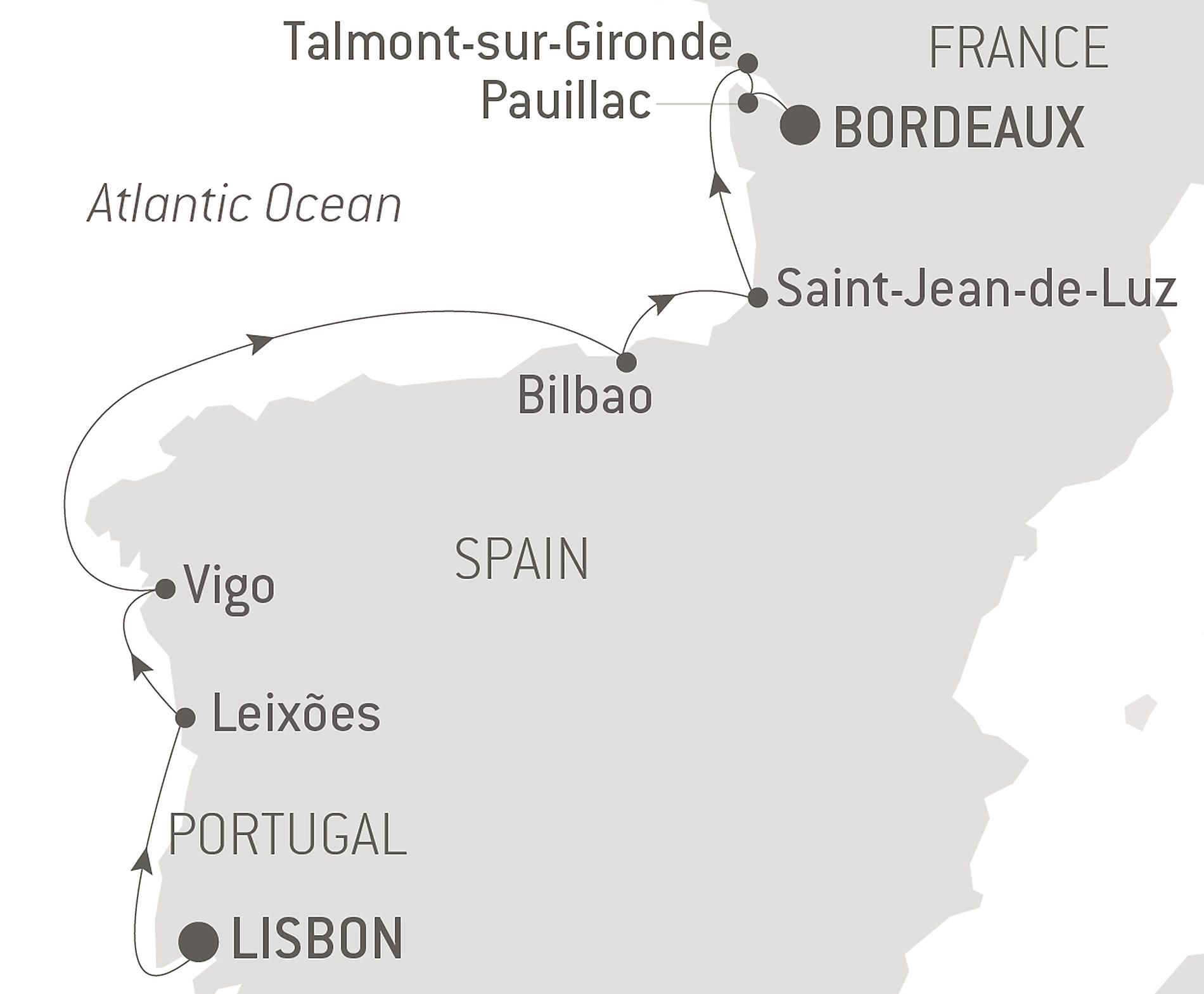 Vigo ? Santiago De Compostela
Loading Itinerary Content...
Innovative design, sleek shape and profile, refined interior decoration, friendly, intimate atmosphere: French designers and decorators have managed to give this ship a unique style and veritable signature of its own. Combinations of fine materials, colours and tones harmoniously livened up with touches of bright colour, elegant lines, discreet and subtle refinement… everything has been designed to create a unique atmosphere onboard, a veritable personality: the chic style and naturally relaxing ambiance of a veritable private yacht.
Year Entered Service
2011

| | | |
| --- | --- | --- |
| PS6 | Category PS6 | $15,640.00 USD |
| PS5 | Category PS5 | $14,850.00 USD |
| DS6 | Category DS6 | $10,900.00 USD |
| PR6 | Category PR6 | $7,740.00 USD |
| PR5 | Category PR5 | $7,290.00 USD |
| PR4 | Category PR4 | $6,940.00 USD |
| DEL | Category DEL | $6,220.00 USD |
| SP3 | Category SP3 | $5,710.00 USD |
Deck plans are not yet available
What is the French Touch exactly? …
The French Touch is above all a French crew, there to welcome you and ensure your well-being during your cruise.
It's also the French art of living that travels with us, where discreet service and excellent cuisine naturally take pride of place. Each day, our French chefs will introduce you to fragrant flavours, cheeses carefully selected by expert cheese affineurs, delicious specialty breads and sweet pastries. All of this is accompanied by a selection of fine wines to complement your meal, or you may choose from a superb "à la carte" list of grand cru wines and our on-board sommelier will be only too happy to advise you.
The French Touch is also evident in our choice of partners, whose expertise and passion for their work matches our own quest for excellence: interior design by Jean-Philippe NUEL, beauty treatments by Sothy's, fabrics by Pierre FREY, travel beauty kits by L'Occitane, a range of boutiques including Lacoste and Façonnable, french Champagne Veuve Clicquot, luxury bakery and sweets by Ladurée...
Finally, the French Touch is perhaps simply the subtle blend of relaxed elegance and conviviality, that certain je ne sais quoi that our passengers so appreciate, buoyed by the elegant authenticity of our trips and the personality of our ships.
Our concern for the health and well-being of the planet is demonstrated by our active involvement in organizations dedicated to the promotion of ecologically responsible tourism and to the sharing of best practices. We are a proud member of the International Association of Antarctica Tour Operators and a signatory of La Charte Bleue d'Armateurs de France, both of which bind us to follow the most stringent rules and regulations governing safety and environmental protection.
CLEAN SHIPS
Above and beyond participation in these organizations, we have taken the additional step of having all of our ships certified "Clean Ship" by the French classification society, Bureau Veritas, one of the world's major ship classification societies. This coveted and seldom-awarded certification recognizes that the PONANT fleet—from initial design and construction to seagoing operations—has adopted the most environmentally responsible materials, equipment, and management procedures possible. Some of these state-of-the-art systems and processes include:
A silent electric propulsion system, with main engines and electric generators that use advanced control systems and burning light, low-sulfur fuels, reducing fuel consumption by up to 30% and greenhouse gas emissions by 40%
All ships are equipped with Dynamic Positioning, a sophisticated computer-controlled system, which allows them to maintain a mooring position without dropping anchor, thus eliminating potential damage to sensitive areas
Black water (sewage) is filtered and treated aboard ship; any solid residues at the end of the process are stored until they can be properly discharged ashore
Grey water (showers, dishwashers, laundry) is treated and recycled for use in cleaning the outside decks
Solid wastes (glass, paper, medical, food, etc.) are sorted, compacted where appropriate, and stored in refrigerated compartments until they can be properly disposed ashore
Bilgewater is treated with ceramic filtration systems to obtain an extremely low hydrocarbon content (less than 5 PPM instead of the regulatory 15 PPM)
The lighting aboard, based on LED and CFR technology, reduces up to 10 times the electrical power required from the ship's electric generators
Far-sounding sonar, in addition to providing the bridge with 3-D pictures of the ocean floor, icebergs, and ice floes, also minimizes the risk of collision with marine mammals
Ponant's cruise ships, L'Austral, Le Boréal, Le Soléal, and Le Lyrial are not only the newest, and most elegant, and most comfortable ships afloat, they are also the most eco-friendly.
Service, Five-Star Facilities & Gourmet Cuisine: On Course for Excellence
Attentive, discreet and elegant, the fully bilingual service aboard our ships will meet your every desire. Our unique atmosphere is filled with a signature sentiment: a warm welcome from an experienced crew who are passionate about what they do. Like in a private yacht, you will live exceptional moments, between luxury and snugness.
In the dining areas, our gourmet cuisine is worthy of top fine dining restaurants: menus are created with expertise by our skilled chefs with a French-inspired menu enhanced by specialties from our various ports of call, accompanied by exquisite wines.
Luxury, comfort and pleasure: relax and enjoy your cruise - we take care of everything...
Newest, Modern Small Ship Fleet Accommodating No More Than 264 Guests
PONANT offers to you chic cruising without the crowds: experience the comfort of a private cruise onboard vessels of an intimate size, exclusive to between 64 to 264 guests.
Each of our cruise ships has elegant and uncluttered interiors, delight in the fun and casual elegance onboard without the formalities. Crew members, all versed in elegant discretion, will see to it that you enjoy a welcome that will make your cruise a unique experience. You will savor an exquisite dining with French and international cuisine, with complimentary wines included at lunch and dinner.
During your cruise aboard one of our ships, discover exceptional sites and come closed to landscapes so often inaccessible to large ships. Enjoy also seminars with international experts, passionate about their subjects, giving a further dimension to the sights you see.
PONANT offers to you an alternative to many other traditional cruise lines: discover the world with French chic and elegance.
About Ponant

Why choose Ponant ?
A French crew, expertise, attentive service, fine dining and more. Within a fully 5 star setting, we take you to discover exceptional destinations while offering you a travel experience that is both authentic and high end.
Travelling the French way
As the only cruise company sailing under the French flag, PONANT is an exponent for the French way of life across every sea on the globe. On board, this is translated through exceptional services, a multilingual crew and bringing French know-how to the fore.
Exceptional destinations
From secluded ports to secret seas, from forgotten beaches to remote lands, our experts choose itineraries that take you away from major tourist routes so you can enjoy unique cruises and shorelines that few have seen before.
Ships on a human scale
Thanks to our small capacity ships, we can dock in private ports and offer stopovers in preserved locations. On board, the limited number of passengers means that everybody can enjoy special moments and feel as though they are on a private yacht.